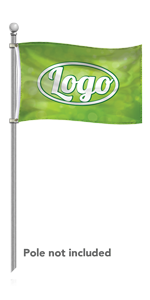 Custom Pole Flag
---
Hem & grommet for pole installation
1 or 2 sided graphic
---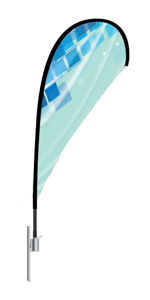 Teardrop Flag
---
Indoor and outdoor capable
Eye-catching graphic shape
Carrying bag available
---
Sizes
XLarge: 13.5 ft.
Large: 11.2 ft.
Medium: 9 ft.
Small: 7 ft.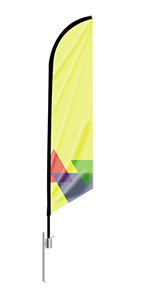 Feather Angled Flag
---
Indoor and outdoor capable
Popular graphic shape
Carrying bag available
---
Sizes
XLarge: 18 ft.
Large: 14 ft.
Medium: 10.5 ft.
Small: 9 ft.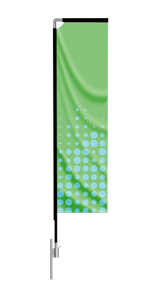 Rectangle Flag
---
Indoor and outdoor capable
Easy to design for graphic shape
---
A combination of a wider range of banner sizes, banner shapes and custom materials give you a wide range of options from New York Banner Stands so that your message and brand stand out.
Attention flags
Attention flags are used to convey events and draw attention to something important. Text or graphics like 'Sale', 'Open' or just your company's name at a major event can be displayed using attention flags. Attention flags can be displayed in various shapes including tear drop or feather shapes. Attention flags can come in custom shapes as well, in the shape of your popular product for instance.
Depending on the location fabric or vinyl can be used in various shapes and sizes with New York Banner Stands wide range of banner sizes and banner accessories.
Message Flags
Message flags are a little more detailed than attention flags. A 'Thelma, will you marry me' flag fluttering behind a show plane is a message flag and so are 'happy birthday', 'Safety starts with you' flags that can be displayed indoors or outdoors.
Message flags can be small like in the 'happy birthday' flag mostly used indoors or can be huge when for instance flown behind an aeroplane. A range of printing and material options are available from New York Banner Stands given your specific needs.
Feather and Flutter flags
The convenient shape of feather banner offers you a larger advertising area while the shape itself is appealing to your target customers.
Flutter flags give your message or graphics an additional appeal of motion. Motion breathes life into your message and graphics. With designs acquire an element of dynamism with motion, fabrics used and print quality options can make your flutter flag stand out.
Our feather and flutter flags come with a range of accessories so your banner keeps flying high.
Teardrop Flags
Just like feather flags, teardrop flags and banners give you a larger advertising area. Used with various material you can get a flying effect for better impact of your company brand and advertisement. Teardrop flags can be used both indoors and outdoors.
Custom Flags
Custom flags come in elliptical, hexagonal, Diamond, triangular, circular and other interesting shapes. Choice of materials including wool, cotton and silk give custom flags their royal look and exclusivity.
With a well designed custom flag your message and brand is sure to stand out.
New York Banner Stands wide range of flags, custom materials and accessories ensure one think-your advertisements stand out.
Posted in Banner Stands, Flag Stands and Designs, Uncategorized and tagged Attention flags, custom flags, Feather and Flutter flags, Message Flags, Teardrop Flags, types of flags.