POP UP TRADE SHOW DISPLAYS – ONE OF THE EASIEST WAY TO EXHIBIT
---

Trade show displays are simple to set up and lightweight to ship. Pop up displays offer your business a large and portable trade show exhibit that can be set up quickly. From the shape of the display to the size and accessories available, pop up trade show displays are versatile and easily movable. These display simple and affordable.
Pop-up displays are functional than ever before and they are the most popular trade show booth solutions to exhibit on floor as it is flexible, affordable and easy to ship, install and store.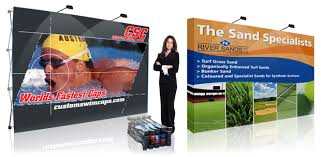 We at New York Banner Stands, our trade show products are made out of durable, lightweight fabric that is stretched tightly so as to give a clear picture of your marketing image. Every one of our trade show product displays are scratch resistant and washable so you can use them many times over.
Trade show displays are the perfect way to get noticed at a big event. Since you are competing for attention with many other businesses, it is important to have your display as eye catching as possible. Our sleek displays come in vivid colors and you can customize them to your needs. In addition, they are simple to assemble, lightweight, and a cost effective advertising tool.
New York Company Providing a Customized Pop-Up Display for Trade Show Use
If you're looking for pop-up displays that really add impact to your trade stand or display table, we can help. We have been providing top-quality, custom display stands from our New York premises for some years now, combining high-grade materials with skilled workmanship to create stunning vinyl and fabric display options.
Good Selection of Display Sizes and Shapes
If you want something that's exactly right for the display you've got in mind, something from our selection is going to work really well. Our pop-up displays can be purchased in 6, 8, 9, 10 and even 16 foot sizes. We also offer a wave shape as well as a straight-forward flat display option.
Great Range of Colors and Designs for Your Fabric Display
We use top-quality inks that are created to repel water and resist the fading caused by UV light. Our customers benefit from an exceptional number of color options – we are able to recreate almost any logo or corporate design, as well as come up with fresh, imaginative solutions if required.
Tough, Durable Pop-Up Display From a New York Specialist
As niche providers of high-grade displays, we are proud of our reputation for speed (next day and same day delivery is possible in many cases) and exceptional results. To place an order or find out more, call us at (800) 516-7606.