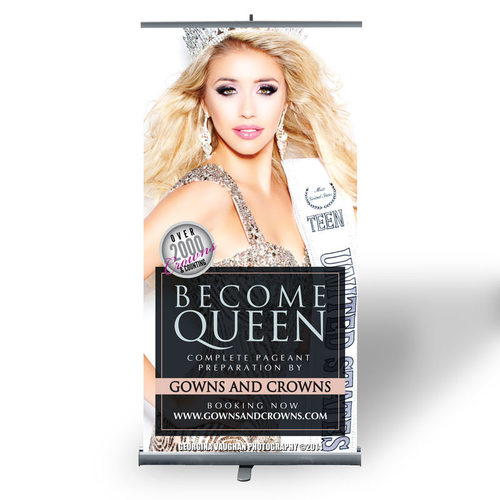 Handy Pop-Up Retractable Banners Are Easy to Transport
If you need a ready-made, high-quality display that weight only 7lb and can be put up in five minutes, a pop-up retractable banner could be the answer. Large enough to make an impact, yet easily carried by one person, a retractable banner requires no other mounting equipment – just use the tough, lightweight aluminum supports to keep the artwork, display or advertisement firmly in position.
Each Pop-Up Banner Has Plenty of Visual Appeal
We use high-caliber photographs and art work on each banner, resulting in an attractive end result that will certainly appeal to your target audience. The banner is designed to keep looking good, even when used repeatedly. When stored, it's rolled rather than folded, so there's no chance of unsightly folds. Made from durable materials, the banner is expected to last up to five years when used indoors.
Pop-Up Retractable Banners for a Wide Range of Uses
A great solution for events, stands, publicity stalls and trade shows, banners are also a great way of telling people about special offers, enrollment opportunities, products and other helpful information that enables them to take advantage of what you've got on offer. Because these banners are highly portable, it's possible to provide a convenient source of information or promotion exactly where it's needed.
We Provide Pop-Up Retractable Banners and Many Other Promotional Products
Premium promotional products send out all the right messages about your organization, so it makes sense to invest in top quality banners that give you the results you want. Every banner we make comes with our 100% satisfaction guarantee – any problems at all and we'll be happy to work with you to resolve them. To find out more about our pop-up banners, place an order or discuss your requirements, call us now at (800) 516-7606.Art work Dimensions: 31.5" x 78.5" Perfect for trade shows, business promotions, and information display to walk-in customers, our durable Retractable Banner Stand with a full color 100% digitally printed banner is an easy and inexpensive way to showcase your business! This banner stand comes together very easily - taking 5 minutes to set up.Use: Indoor, up to 5 yearsProtection: UV / Water ResistantStandMaterial: Lightweight Aluminum Retractor Case / Nylon Carrying BagStandHeight: 79-80"StandWeight: 7lbs