THE ADVANTAGES OF USING INDOOR BANNER STANDS
---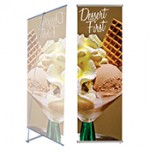 At New York Banner Stands, we don't just make one type of banner or one type of banner stand. Instead, we make a range of different options in all of our products to suit the needs of our customers for all the advertising, branding, and presentation needs.
For retail outlets, venues, trade show booths, businesses and entertainment centers, indoor banner stands create a highly versatile option in advertising, branding and display that can be changed as needed or customized to meet ongoing needs.
To help to get an idea of how indoor banner stands can be used, here are some popular choices for how to get the most out of these stands and custom banners. Remember, we can custom print your banners on a wide variety of materials with crisp, clear and vibrant images that are sure to attract attention.
Branding
Branding is critically important in business today. By using our indoor banner stands and your custom designed banners, we can create a uniform branding campaign that can be used across your businesses or venues.
We can also create unique images for each of the stands, highlighting different products, features or options that can be easily changed as needed for banners that are never old or outdated. These are ideal for trade shows and promotional events.
Sales Signage
Using banner stands just inside the doorways or in directing people to specific departments or areas is a low cost, highly visible way to announce a sale. By selecting our durable and sturdy banner stands, they provide year-round signage in a sophisticated and practical way.
Location Information
For venues or at events, using banner stands to provide location information or to color code sections of a large area is a simple way to handle logistics and traffic flow.
The stands are lightweight but durable, providing years of use even without the need to permanently mount signs to walls or to try to come up with other means to provide locations and directions.