​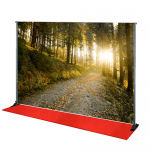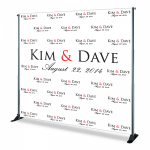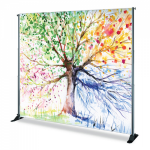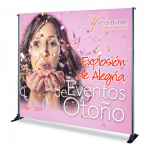 Picture yourself at a movie premiere. What do you see? The lights, the camera, the red carpets, the stars and the thing behind it all: the step and repeat backdrop. Perfect for formal black tie affairs, the step and repeat backdrop has been a staple of all red carpet events. A 8′ x 8′ step and repeat Backdrop Banner is a great way to make your event memorable.
The 8′ x 8′ step and repeat backdrop can help you create the perfect photos set up like a Hollywood star. You can promote your business, show appreciation to your sponsors; take your event to the next level! Our Step and Repeat Backdrop is matte-finished which helps to reduce the glare from photos. Although you see the step and repeat backdrops at formal red carpet events, that does not mean it is limited to just that. Our 8′ x 8′ step and repeat Backdrop Banners are perfect for all kinds of events whether its for a wedding, birthday, graduation party. Our 8′ x 8′ step and repeat Banner can be customized to any arrangement. Create a photo backdrop that you can use to commemorate the event and create lasting photos that you can keep for a lifetime.
Our 8′ x 8′ step and repeat banner and our 8′ x 10′ step and repeat banner are our most popular sizes. The 8′ x 8′ is ideal for photos of 2 – 4 people and the 8′ x 10′ is perfect for 4-6 people.
New York Company Offering High-Grade Custom Backdrops for Events
The go-to choice when it comes to a suitable background for publicity photos at almost any event, a custom backdrop allows you to subtly put your brand across at the same time as providing guests or delegates with a great location for their pictures. We offer a selection of personalized backdrops which have been specifically designed to deliver the top-quality looks and function you need.
Event Backdrop Banner Stands Made from Premium Materials
Our banners are made from carefully chosen materials which have been specifically selected for their outstanding performance. Each backdrop is constructed from high-grade vinyl and has a matte finish for better photographs. The printing is completed using CMYK digital printing and ink which is resistant to UV light (sunlight) and water, as well as being robust and standing up well to wear and tear.
Personalized Backdrops in a Range of Different Sizes
As an established provider of backdrops, banners and similar advertising accessories, we are aware of the need to offer every customer a fast, responsive solution to their requirements. We offer a same day and next day service; we are often able to deliver your goods to your doorstep for FREE, as well as offering highly competitive prices on everything we sell.
New York Company for All Your Same Day Personalized Backdrops
No matter what type of business you operate, we are able to create top-grade backdrops that offer the perfect finishing touch to your events. To place your order or tell us what you're looking for, call us at (800) 516-7606.
General guidelines:
We use premium 14 oz. heavy duty vinyl material with a matte finish on our custom step and repeat backdrops.
We print full color CMYK digital printing that is durable, water resistant and UV coated.
We design and print all of our products in-house. No middle man or outsourcing.
We pass the savings onto you! We can print sizes up to 8 ft. x 150 ft. seamless.
We ship our step and repeat backdrops in a tube.
Your banner is never folded and this is done to eliminate creases.
All our backdrops include free hem and grommets.
You can add a pole pocket to your custom step and repeat backdrop at no additional charges.
Please choose the pole pocket option for your finishing option.
We highly recommend "Pole Pockets (Top and Bottom) if you will be ordering an 8′ x 8′ or 10′ x 8′ adjustable telescopic banner stand.
We offer a 1-day turnaround. We ship your order within 1 business day.
Most orders ship on same day.
Large volume orders can take additional time.
Our custom step and repeat banners are good for red carpet events, trade shows, birthdays, weddings, graduations and much more…
100% Satisfaction Guarantee Please send your artwork in a vector format EPS, AI, PDF (outlined).
Any raster (pixel based photo) JPG or PSD (flattened) image file would be best at 100% scale at 100 dpi.
For individual logos, we recommend that each logo is at least 1000px wide.
This is just a general guideline.
Your logos may or may not work even if it is 1000 px wide!
We will check your artwork and let you know at no additional cost.
Order today and see how we can help you create a celebration that all of your guests will remember.