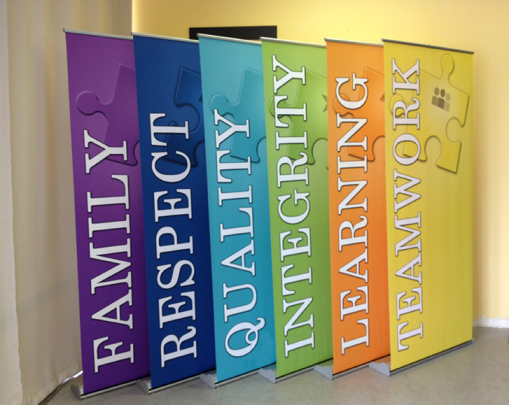 Versatile Fabric Banners Supplied By an Experienced New York Company
UV-resistant and waterproof, fabric banners are a great option for both indoor and outdoor use. Environmentally friendly and competitively priced, a growing number of businesses are turning to custom fabric banners when they want to get their message across. We are able to produce a customized banner of almost any size, so whether you want something extra-large or standard size, we can help.
Wide Range of Different Custom Fabric Banners
We use US-produced material to create our fabric banners, so you know you're getting a high-caliber product. Because we offer a great range of colors, it's possible to pick shades that match your corporate scheme or that coordinate with other marketing material that you might have. Our design team can create a layout and graphics that give you the stunning effect you're looking for, or we can upload your chosen logo, text or pictures to create the image you want.
No-Obligation Quote, Next-Day Delivery
We operate a seven-day service and are usually able to get your products to you the day after you order – a great solution when you've got a tight deadline to meet. Our team is happy to take orders of any size: whether you need one fabric banner or twenty, we can meet your requirements. As an experienced company with years of trading behind us, we feel our continued success is due to great products and a genuine commitment to 100% customer satisfaction.
New York Source of Premium Fabric Banners
Our team handles every aspect of banner creation (we don't contract out), ensuring you end up with a high-quality product that will normally give years of useful service. If you want premium promotional material that gets your message across, we're here to help. To find out more about our services or to place an order, call us at
(800) 516-7606
.
Fabric Banner is a high-end signage solution for your event.
With New York Banner Stands, you have the best quality and great price.
We offer top-of-the-line fabric material exclusively from us to all of the U.S. Our Fabric Banner will make your events more impressionable.
It is durable, water proof and UV protected. And the best thing is, it is environment-friendly.
Applications includes Outdoor/Indoor signs, mural, fine-art, booth display.
Our custom fabric banners start at a low price of $2.50 per square feet.
Your order shipped within one day.
General Guidelines: No mininum order.
Order 24/7 Online Design Center or Upload File.
We use materials made in the USA.
Our full color quality custom fabric banners are durable, water and UV resistant.
We design and print all of our products in-house.
No middle man or outsourcing Any sizes up to 4ft by 150ft seamless.
We welcome larger banner sizes as well. Most orders ship on same day & large volume orders will take additional days.
Our top quality fabric banners can be horizontal or vertical.
We ship direct from New York.
100% Satisfaction Guarantee Vector Format EPS, AI, PDF files (font outlined) in any size (proportional to graphic ordered).
Raster (pixel based photo) JPG or PSD (flattened) image file would be best at 100% scale at 100 dpi.